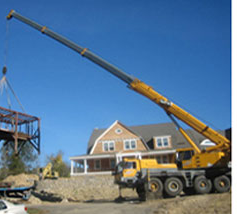 Construction sites typically utilize industrial cranes. What are these cranes used for? There are two main reasons to employ the use of cranes at a construction site: to lift and move heavy equipment from one area of the site to another and to lift equipment and structures up into their intended final position.
Today's modern skyscrapers wouldn't exist without cranes. They help create super structures where people live, work and play. Cranes help erect bridges, roadways, airports and more.
While "tower cranes" are fixed to the ground during the construction period for the construction of very tall buildings and structures, there are also mobile cranes which can be mounted on trucks or equipped with engines. Mobile cranes can move around a construction site and/or between sites, helping do the heavy lifting necessary for building and maintenance projects.
Industrial cranes at construction sites typically move tons of steel and concrete, which are two key ingredients of building a proper structure. It has been said that one crane can do the work of 50 men. Cranes are quicker and more efficient for lifting/carrying heavy materials vertically than having human beings try and do the work on their own, without mechanical help.
Astro Crane rents cranes in Massachusetts as well as the other nearby New England states. These cranes can be used on construction sites, and Astro Crane can even supply experienced crane operators for projects, if needed. Astro Crane offers hydraulic cranes ranging from 8 to 600 tons, providing dependable and economical service. Contact us to inquire about crane rentals in New England.