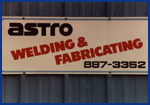 The Astro Crane HISTORY:
Astro Crane began in 1980 as Astro Welding and Fabricating, an industrial welding and steel fabrication enterprise boasting a single crane for equipment. In ten years, the enterprise grew into a large-scale fabrication and erecting business known as Astro Crane Services. Now with over 20 vehicles varying between 6 and 600 tons, Astro Crane provides Rhode Island crane rental and crane rigging for projects of any size and expands all across New England.
Following the split from steel fabrication in the mid 1990's, Astro Crane tackled crane service exclusivity and focused on comprehensive leadership in the field. The cranes grew in number, size, power and function until every crane hoisting and crane rigging job in Rhode Island could be successfully filled by Astro Crane's complete collection. Today, Astro Crane provides equipment rentals and services to customers in eight states and proudly serves as one of New England's largest and most reputable crane-rental authorities.
For your heavy-duty projects or precise applications, trust Astro Crane's professional-grade equipment, attention and attentiveness. For more information or to book your crane rental, contact Astro Crane today.
Our crane services can be used for any conceivable situation now due to the number of cranes we have along with the operators that we provide to run them.

Co-owner Marty Wright operates one of Astro's first cranes.