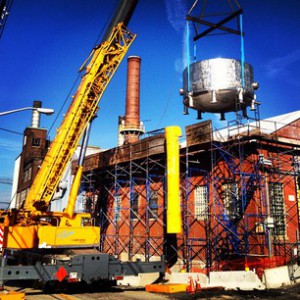 If you were to build a tall building today, and you needed to get long, large, heavy steel beams or pipes up to the top floors, you would use a crane. Without cranes, many of the world's important structures wouldn't be possible.
Cranes lift very heavy objects, some of which weigh thousands of pounds. You typically see cranes on construction sites, where they aid in moving and placing materials that could not be easily lifted on the shoulders of a hundred strong men. You see cranes in use with the development of a lot of transportation infrastructure, including airports, bridges and highways.
Have you ever passed a seaport/inland port? Cranes are usually there, loading and unloading barges, boats, and ships. Cranes have the capacity to pick up heavy shipping containers and move them from boats to trains (or trucks) and vice versa. Even in marinas, cranes come in handy when putting large sailboats or yachts into (or out of) the water.
Because cranes can handle heavy loads, and lift them high, they're often used to get materials to the tops of buildings, saving a lot of time, money and energy. Imagine having to carry a giant air-conditioning unit to the top of a three-story building—that's not going to happen, right? But a crane can do the job, easily, and get the AC unit placed right where it needs to go on top of the building. Thank God for cranes, as they save us from a lot of back-breaking work.
Cranes cost quite a bit of money to buy and own, so if you have a job that requires a crane, know this: Astro Crane rents hydraulic cranes ranging from 6 to 600 tons, with service all over New England. Why buy when you can rent?
Based in Massachusetts, Astro started with one crane in 1980, and has since grown to a fleet of over 20 heavy-duty vehicles. Contact Astro Crane today at 1-800-696-2787 to discuss your crane rental needs.