If it seems like you're always using a crane on your construction projects, it may be tempting to consider purchasing or leasing one rather than renting them all the time. However, more often than not, that turns out to not be the best of course of action for construction companies. Here's why.
Renting Cranes Saves Companies Money
Purchasing a crane is expensive…and that's just the sticker price. New cranes typically cost in the 6 figures just to own them and once you own one, you have to pay even more to maintain, repair, and clean it. When you rent one, you just have to worry about paying that one time fee, and you never have to worry about maintenance expenses since you don't own it. What's more, you have to factor in other miscellaneous expenses, such as storage costs, fuel, insurance policies and licensing. Renting provides more peace of mind, because who wants to worry constantly about keeping something that cost 6 figures in good working shape? That's pressure!
You Never Know What Type of Crane You'll Need
Undoubtedly, different cranes are needed for different jobs, and if you don't own an entire fleet of construction cranes, you may run into a situation where you don't have the right crane for your project. By working with a crane rental company, you'll have access to all sorts of different types of cranes, including but not limited to mobile cranes, tower cranes, rough terrain ones, boom trucks and deck cranes. As such, when working with a crane rental company, you're guaranteed to get the right crane for your needs, rather than being forced to try to fit a square peg into a round hole.
Crane Rental Companies Can Provide You With Operators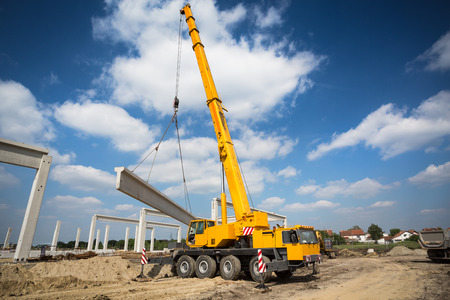 In addition, even if you own a construction crane, you might not have qualified personnel to operate it. When working with a construction crane rental company, they can often provide you with qualified crane operators who have the credentials, experience and expertise to handle the crane for your project and make sure everything is done correctly and safely. Crane operators must make myriad decisions on any given day, making it vital that you're working with one you can trust and that has the experience and training you'd want in an operator. From going over a checklist and making sure equipment is safe to use, to making real time decisions during lifts, there are many times throughout the day that the entire jobsite needs to rely on a crane operator's expertise. As such, you want to work with ones you can truly rely on.
Time is Money
Ultimately, in any business, the old cliché that "time is money" rings true. By going with a crane rental company, you can save your construction business a great deal of time, allowing you to focus on other aspects of the project. For example, you won't have to worry about getting the crane to the jobsite, setting it up, going through a check list, doing the actual job and then returning to storage. That's a whole litany of things you can move off your plate!
Those are just some of the many benefits of choosing to work with a crane rental company. In the New England area, Astro Crane has provided countless clients with crane rentals and crane operator services. We work with clients throughout the area, including those in Massachusetts, Rhode Island, Vermont, Maine and Connecticut. To learn more about our services or to discuss your specific needs, contact us at your convenience.