Each year, crane-related accidents cause about 40 fatalities. They also cause many construction workers and innocent bystanders to sustain injuries. In about 90% of crane-related accidents, human error is to blame. More often than not, these accidents take place when a crane operator makes a bad decision either before or during a lift. By simply being more careful and attentive, crane operators could prevent many crane-related accidents from taking place.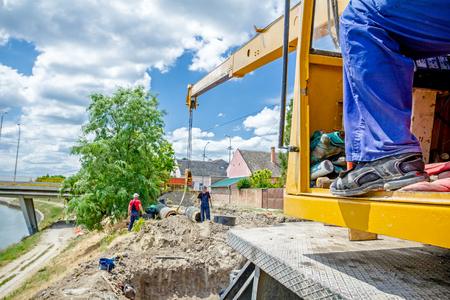 If your company utilizes construction cranes on a regular basis, it's important for the operators who are in charge of using them to follow certain safety protocols at all times. By doing this, they can reduce the chances of them being involved in a crane-related accident. The right protocols will also keep your construction projects running more smoothly by getting a lot more work done when a crane is in action. Check out some of the safety protocols that your crane operators should follow to limit accidents on your construction sites.
Construction cranes should only be operated by employees who have the proper training and experience.
When you welcome a crane onto a construction site, you shouldn't allow just anyone to use it. The only workers who should be allowed anywhere near the crane are those who have gone through the proper training to work as crane operators. They should have the right certifications, and they should also have a wealth of experience under their belts. Operating one is complex, so it's a job that's best left to those who know exactly what they're doing when they take control of a crane.
Construction cranes should be properly inspected each time they're going to be used.
Prior to climbing into the cab of a construction crane, a crane operator should always perform a thorough inspection. They should take a look at the various cables and booms on a crane to make sure they're all in good working order. They should also assess the loads that they're going to be picking up with a crane and see that the crane is equipped to handle them. If the loads are too heavy, a crane operator shouldn't ever push a crane beyond its limits since it could lead to a catastrophe.
Construction cranes should not be used when there are people working underneath .
Construction sites are often on the busier side. There are always people walking around and working on one thing or another. When your crane operators go to perform a lift, all of the work happening in their general area should stop. Cranes shouldn't ever be used while people are working underneath them. If the crane malfunctions or if it accidentally drops something down towards the ground, the last thing you want is a bunch of people working directly beneath it. They could be injured or even killed.
Construction cranes should not be used during inclement weather.
When your company is on a tight schedule, you might be tempted to push a crane operator to use a crane when it's foggy, windy, rainy, or even snowy outside. This is never a good idea. If the weather conditions aren't just right, a crane operator might not be able to control a construction crane like they normally would. The inclement weather could cause them to get into some kind of accident. You're better off waiting for inclement weather to pass before using a crane on your construction site.
Construction cranes should have more than enough time to carry out the tasks for which they're being used.
You should never, ever try to rush a crane operator through their portion of a construction project. Cranes are gigantic machines that need to be operated slowly to ensure that they don't tip over or cause a load to swing more than it should. Your company might be in a hurry to get through a certain part of a project that you're working on. But if that part of the project involves using a crane, you should practice patience. You don't want a crane operator to make a fatal mistake because you're pushing them to work too quickly.
Would you like to work with some of the best crane operators in the business on your next construction project? Outside of offering a wide range of rental cranes, Astro Crane can also provide you with qualified crane operators who will work to keep your construction site safe while helping you use a crane to its full potential. Call us at 978-429-8666 to obtain more information on our crane services.