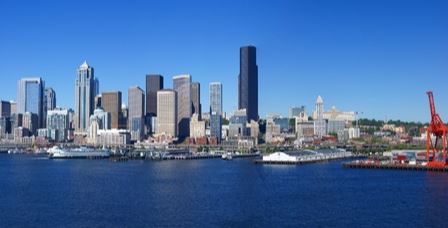 Cities across the United States have skylines dotted with construction cranes. It seems just about every city is rushing to put up skyscrapers that are bigger and taller than ever before. But no American city loves their cranes quite like Seattle. At least, that's the impression you would get walking through the city in 2018.
For the third straight year, Seattle is home to the most cranes of any city. A company called Rider Levett Bucknall counts the number of cranes in cities across the country every six months, and they just discovered that, once again, Seattle came out on top this year.
At the beginning of 2018, it appeared that Seattle might potentially lose its title as construction crane king. But as of right now, there are about 65 cranes hovering high above the city's streets. That number is up more than 20 cranes over the last six months and shows that Seattle still reigns supreme when it comes to cranes. The cranes are being used for everything from mixed-use construction to new residential and commercial buildings.
Interestingly, Seattle is not the construction crane king when you take all of North America into account. The 65 cranes in Seattle pale in comparison to the nearly 100 cranes that are up in Toronto right now. And those cities don't even come close to touching Dubai, which has an astounding 1,000 cranes up. Nevertheless, it's further proof that Seattle is growing by leaps and bounds and doesn't appear ready to stop anytime soon.
Do you want to put up a crane in your city? Astro Crane can assist you with it. We offer a number of crane services and can help you get your hands on a crane for any job. Call 978-429-8666 to schedule a crane rental.