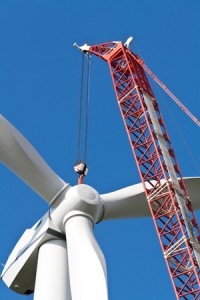 When you think of energy in the future, what comes to mind? Solar power? Maybe – that's a good bet; we do stare at the sun every day of our lives. Hydropower? That too – we're composed mostly of water, experience water every day, etc.; it makes sense then that we would embrace it as an energy source. Then chances are you also think of wind energy. That might be one of the more viable sources currently on the market. Windmills hold a special place in all of our hearts – whether buried in the imagination like Don Quixote. Or maybe we think they're cute and Dutch. Whatever the reasons, we enjoy windmills; we like the way they look, but they are poised to change the future of energy here in New England, especially if this article from Construction Equipment Guide is true.
There are plans being set in motion that will establish New England's largest wind farm. Alanna Durkin writes, "A Texas company is pushing forward with an effort to build a massive wind power project in Aroostook County that would be the largest of its kind in New England. EDP Renewables, which recently submitted its application to the Maine Department of Environmental Protection, needs to get the green light from the state before it can begin building the 250-megawatt wind project in northern Maine that could power roughly 70,000 homes."
That is a lot of homes! And in a climate where energy is seemingly scare some months, this would provide a huge boon for the region, all while perhaps saving some homeowners a bit of money.
At Astro Crane, we support construction projects that would make New England a better place to live. Having more energy allows there to be more construction projects and the very fact that wind energy is eco-friendly, well, there's not much wrong with that idea, wouldn't you say?