Rather than buy a crane, you could rent one from a company like Astro Crane. That said, how can you formulate a crane rental strategy?
Legal Requirements
Keep in mind that things like legal requirements and insurance matter when renting cranes. After all, you ideally don't want to be responsible for any damage to a crane during your construction project. 
As you probably know, crane usage limitations are usually based on the size of the crane being used. So, you should know your project's needs before you sign any contract(s). You don't want to use the wrong crane for the job– that's bad for you, and bad for the crane rental company. 
Expert Advice
If possible, talk with the crane rental company and have them come see the site where you plan to use their equipment– that way they get a feel for the scope of the project and can tell you details about their cranes and which one or ones make sense for the job.
 Jobsite Conditions 
Basically, when thinking about crane rental strategy, it's important to take into account the ground conditions the crane will be on, the weather/time of year, the size of the site (is it cramped or wide and open?), and more. For instance, consider analyzing load charts in order to determine crane capabilities… you want to make sure the crane you use has the strength to do the job. Check rated capacity as well, because it's important to consider the size and weight of whatever it is you plan to lift. Do you need a rotating crane? Is there a certain distance/radius to be covered by the crane? 
Finally, how long will your project last? It's good to know how long you'd need the crane.
Crane Rental Types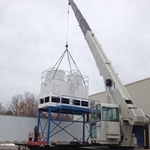 There are different cranes for different purposes, from tower cranes (used for tall buildings) to boom trucks. Do some research before contacting a crane rental company to get a better understanding of the options available these days, and narrow down your choices so you'll know what to talk about with the crane rental company.
Besides renting a crane, you also have to plan on utilizing people, aka rigger operators, who know how to use the crane safely and effectively. Riggers make sure straps get fastened and chains and cables are used properly in order to move objects. Riggers should be OSHA-certified, ideally. 
If and when you choose to rent a crane, factor in possible extra costs such as tracks, reinforcement of paths, and fuel.
It's also a good idea to document the condition of a crane when you first get it. You can inspect its fluid levels, mechanical controls, brakes, etc. Perhaps take photos of various parts of the crane so you have a record of what it looked like before you put it to use. 
Cranes don't magically appear at a construction site. Therefore, someone has to coordinate the transportation of the crane. Some cranes are drivable while others have to be transported using tractor trailers (and then assembled on site). With transportation, timing is key– you don't want to have a crew waiting at the site with no crane to use… you want the crane to arrive on-time and ready for the job when expected. 
Finally, when planning your crane rental strategy, take into account any permits that might be required for the work you plan to do… Check with city laws, for example. One of the worst things that could happen is the local municipality shuts down your operation simply because you didn't get the permit! You could also incur a fine and/or your company could get a bad reputation. 
Renting a crane is something that has to be thought about before it happens, and good planning will help facilitate the whole process. Draft a work schedule to see when a particular crane would be needed. Then consult with crane rental companies to see if they have the equipment you want and need.
Crane rental is convenient because you can return the crane when you're done with it. You don't have to worry about maintaining it, insuring it, moving it, or protecting it once you're done with it! Crane rental can result in reduced fixed and variable costs as well as improved cash flow. 
In New England, you can rent cranes from Astro Crane. Call 978-429-8666 for more info.