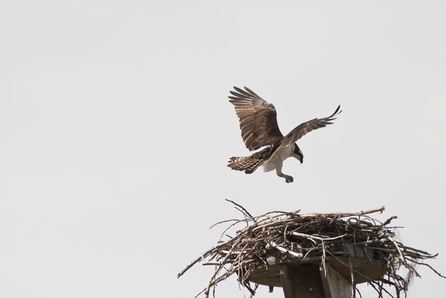 Construction cranes are routinely used to build the buildings that people call home all across the country. Recently however, a construction crane itself served as a home for ospreys in Washington, D.C.
The ospreys set up shop high atop a construction crane that was situated on the waterfront in Southwest Washington, D.C. The area is known for it osprey population, and it's not all that uncommon to see ospreys using manmade objects to build nests. But it was unusual to see these particular ospreys choose a construction crane to be their home. It was also unusual to see that the ospreys had several baby chicks living in the nest on their construction crane.
If the ospreys had continued living on the construction crane, there's a chance they could have faced some danger when the crane was in use. Shortly thereafter, the National Audubon Society was tipped off to the presence of the ospreys on the crane, they touched base with the Department of Energy and Environment and came up with a plan to remove the ospreys from it.
The developer that was using the crane and local wildlife experts teamed up to take the ospreys and relocate them to the Jug Bay Wetlands Sanctuary, which is located in southern Maryland. In doing so, they helped protect the ospreys from harm and allowed the developer to continue using the crane without worrying about what might happen to the ospreys. They also started a local debate about the preservation of ospreys in the area and the protection policies that are in place to help them avoid becoming endangered.
Astro Crane has seen its fair share of complications involving cranes over the years and can help you avoid any problems with your next crane project. Call us at 978-429-8666 today and we'll set up your lift so that you can start using your crane right away.