As the weather grows cooler here in the New England area, we at Astro Crane would like to draw attention to crane safety; specifically cold weather safety.
Of course, the brisk fall and winter weather this area experiences makes every construction job more difficult, but it especially puts a strain on the operation of major machinery. And as one of the biggest machines on a job site, cranes are obviously affected by weather.
We often hear about the effects that extreme weather conditions like wind have on crane operation, but cold temperatures are another hurdle that operators sometimes have to contend with.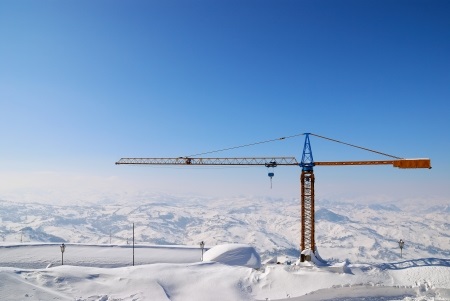 From the motor and hydraulic systems that allow a crane to function, to the riggings and hoists that keep the heavy materials being lifted in place, every area of this machine can be negatively affected by cold temperatures. Especially when the thermometer drops near or below zero, extra precautions should be taken to ensure the safety of all individuals working onsite. Maximum load capacity should be reduced to help prevent potential problems from occurring, and changes can be made to the crane itself to allow work to continue in the coldest of temperatures.
There are a variety of parts of the crane that can be adjusted or replaced with special cold-weather components, including enclosed track systems to protect against ice, as well as electrified systems that allows the cranes motor and internal mechanisms to run at the lowest of temperatures.
Of course, there are schedules and deadlines to be met when working any construction job, but it is just as important to pay close attention to the weather and temperature as it is to get the work done.
We encourage crane operators and site managers to brush up on cold weather crane precautions this season.
Have a question? We are more than happy to provide you with advice on what machines perform best in cold temperatures if you are looking for a crane to rent.
For more information, please call us at 978-429-8666.