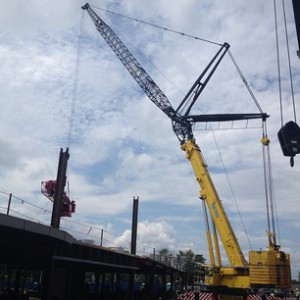 Recently in Dallas, a crane, operated by a contractor working for the Dallas Museum of Art, toppled over while hoisting beams for a party tent being erected on the museum grounds. According to the local CBS affiliate's coverage of the incident, winds were light and the weather was generally favorable, making it likely that the accident occurred due to another factor.
This incident provides an opportunity to reinforce the importance of operational safety when operating any crane. It's imperative to be fully aware of your crane's capabilities and the surroundings before operating to ensure that everything is safely and securely operated. This includes checking the ground or surface the crane is on, as well as any and all outriggers, to verify that the crane is sitting securely and on firm and stable terrain. This is one of the leading safety recommendations outlined by the National Institute for Occupational Safety and Health in its alert on preventing injuries, death and accidents involving crane operations.
Making sure that the crane is secure is only one aspect of safe operations. Limiting lifts to the capabilities of the crane is another. Attempting to lift more weight than the crane is rated for is another potential cause of tip-overs and accidents involving cranes. Before turning the key in any crane, be sure to read the load charts and know the weight of anything being lifted, recommends Industrial Training International. Knowing what your crane can handle and being sure of the weight of your lifts will help prevent accidents from occurring.
In addition, making sure your crane is working order regularly is vital to ensuring proper operation. ITI recommends using "MESH" to review the crane before every shift. This stands for Mechanical, Electrical, Structural and Hydraulic. Reviewing each of these aspects as part of a pre-lift checklist will give extra peace of mind that the crane is ready to properly operate and is a good operational safe practice.
By being mindful of your limits and keeping a close eye on your equipment and operation, you can help prevent crane failures and unsafe situations, leading to a safe and secure operation all around.