In theory, it might seem as though picking out a construction crane for your next construction project will be simple enough. Nevertheless, once you start looking around at all the different cranes that are available to you, it won't be long before you begin to feel overwhelmed by your options. There are so many construction cranes out there you can choose from, which can make the process so much harder than it would appear to be. You might find yourself dazed and confused by the time the entire process plays out.
Rather than driving yourself crazy when it comes time to choose a construction crane, you should carefully consider what you need your crane to be able to do and then pick a crane that is equipped to handle whatever you throw at it. You should also work with a reputable crane rental company that can supply you with the right crane based on the demands of your specific construction project. Here is a guide that will help you find the right crane for your needs.
Think about how much weight you'll need a construction crane to be able to lift.
Before you begin looking around at the different construction cranes available to you, try to get some idea of how much weight you're going to ask your crane to lift during your project. This is one of the most important factors when it comes to choosing a construction crane. The crane that you pick out needs to be able to pick up a certain amount of weight and move it around safely without putting your construction site and those on it at risk. You should never attempt to use a crane to lift more than it's designed to pick up under any circumstances.
Consider how high up you'll need a construction crane to reach.
Are you mostly going to be using your construction crane to move heavy materials around down near the ground, or are you going to be hooking those materials up to your crane and lifting them high up into the sky? If your project is going to call for you to lift materials, you'll need a crane that's tall enough to do this. You'll also need to make sure that your crane can lift items up high without causing the crane to tip over. Talk to a crane rental company about the lifting capacity of the different construction cranes that they have in their fleet.
Look at the terrain that your construction crane will be operating on.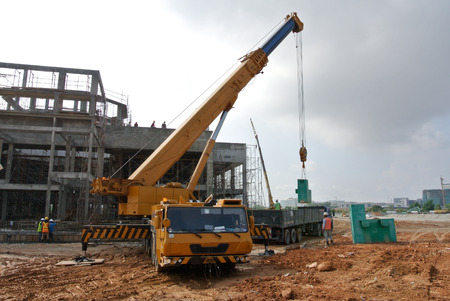 When you start lifting things with a crane on your construction site, you want to make sure that the ground underneath the crane is stable enough for it. Or, if the ground isn't as stable as it should be, you want to have the crane set up in such a way that it'll stabilize itself so that it doesn't sink too far down into the ground or become unsteady while you're using it. You'll also want to have a construction crane that's able to deal with whatever ground conditions you have on your job site.
Figure out whether or not you'll need to move your construction crane around.
There are some construction companies that set up cranes on their job sites and leave them in one place the entire time. There are others that need to be able to move their cranes around from one spot to the next in order to carry out different tasks. Which category is your crane going to fall into? Your answer to this question should help you determine which construction crane would be a good fit for your job site. There are some cranes that will have to stay put when they're first assembled and others that can be moved at almost a moment's notice.
Make sure you'll be able to afford to rent the construction crane that you want.
You're probably not going to be able to get around renting a crane for a heavy-duty construction project without compromising the safety of your site. But you should make sure that your crane rental fits into your budget when you rent it. A state-of-the-art crane with all the bells and whistles might do an amazing job. But it might cost way more than a crane that can do the same job for a fraction of the price. It's a good idea to come up with a budget for your construction crane ahead of time to avoid overspending on it.
Are you struggling to pick out a construction crane for your next project? Astro Crane knows how challenging it can be for some construction companies to select a crane that will do everything they need it to do. If you would like a hand choosing the right crane for your project, call us at 978-429-8666. We can talk to you about the cranes in our fleet and find one that'll fit all your needs.