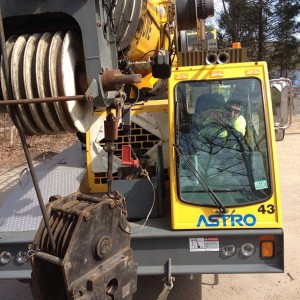 Located in Massachusetts and servicing all of New England, AstroCrane is one of the biggest and most reliable crane renting companies. Here are some reasons why we are the best place to go for your crane-renting needs.
●     Biggest Selection
We have a wide range of different size cranes with our hydraulic cranes ranging from 8-600 tons, from our 8 ton Terex industrial cranes to our all-terrain 600 ton hydraulic cranes. And we have several machines that are in each category available at all times, so you don't have to wait to complete your project.
●     Expert Maintenance
Our fleet of cranes is maintained with expert precision, and kept clean and in first rate operating condition at any given time. You can be sure you are getting the best quality machines when you rent with us.
●     Experienced Operators
We have qualified and experienced crane operators to help you if you feel, for safety's sake, you would like our assistance in this area.  Our operators are some of the best in the country, and able to carry out a wide variety of different tasks.
●     Contractors Are Welcome
If your business cannot carry the burden of the expense of buying your own cranes, we are there for you. We work with many different contractors all the time, and our assistance can add to your company's productivity.
●     Consulting Services
If you are a private renter and not sure what machine would be best for you, and if you might require one of our operators, we are here to help you choose the best machine for your specific needs and help you decide if professional help is needed.
AstroCrane is here for its community. We have a strong business ethic, and you can depend on us for the best quality cranes, and most experienced operators to get the job you have to do done. And done in the best and most professional way possible.