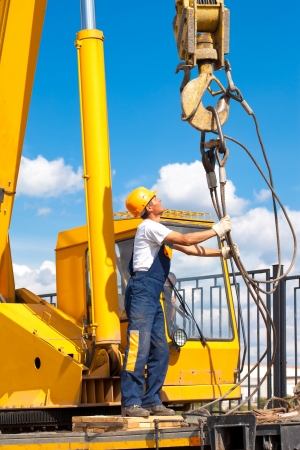 Crane operators make good money. Their job is challenging but doesn't require years of advanced study. So how does a person become a crane operator?
The Process of Becoming a Professional Crane Operator
Typically, a young person graduates high school, takes some trade school courses and then completes general crane operator training followed by an apprenticeship. It takes between four months and five years to become a crane operator– four months to "get into it" and up to five years to earn higher level certification(s). Most people take between four and eight months to complete basic crane operator training programs and get their basic certification. Crane operators need various skills, including good depth perception, attention to detail and strong verbal/written communication skills. Safety measures must be followed, too. 
While in high school, students should focus on the basics of math, reading, science and technology, since those are all subjects that come into play for crane operators. Then, with trade school coursework, there can be a focus on specialized skills needed for work in the trades, including construction work, and, of course, crane operation. Trade schools also help students find apprenticeships which can later turn into full time employment opportunities.
Besides high school and trade school teaching fundamental skills, it's important to receive general operator training. Students can learn how to operate machinery both skillfully and safely. They can also learn about equipment maintenance and safety protocols. From there, it's on to the apprenticeship where a person learns "by doing" as they're mentored by an experienced crane operator who can answer questions and guide them along…
So, to become a crane operator involves book learning, attending classes, knowing fundamentals and then getting onsite to put that knowledge to work in "the real world."
Do you live in the New England area and want to know more about becoming a crane operator? Contact Astro Crane, known for crane rentals, for more information– the number is 978-429-8666.