When you think of dangerous jobs, what comes to mind? Police officer, airplane pilot, deep sea fishing, miner and crane operator are just some dangerous jobs where there's an inherent risk that someone could get injured or even killed on the job. Operating cranes, in particular, is a risky business. You want to make sure your crane operator knows what he or she is doing and is taking into account the safety of everyone and everything nearby, at all times!
Signs of a Poor Crane Operator
What makes a bad crane operator? Well, someone who has a lack of experience on different crane models isn't ideal. And, if they're not familiar with proper rigging and setup techniques, there could be a problem. What if they fail to secure the crane correctly? What if they fail to verify that the ground and equipment are level? Or they don't confirm that the ground is stable enough to support the crane's weight? Disaster could ensue! Crane operators also have to know the crane's rated capacity so they don't attempt to lift or move an object that's too heavy for the crane to handle. They do not want to tip the crane. They do not want to operate it in hazardous weather conditions. As you can see, there's a lot of responsibility on the shoulders of a crane operator.
Crane Operating Experience is Key
Those who aren't too familiar with construction work think that operating a crane involves connecting a few riggings and operating a couple controls. But there's more to it than that! A crane operator has to oversee operations from the time a crane arrives at a jobsite until it's gone. This work involves constant monitoring and supervision of the crane and the people around it. It helps to be a "hawkeye" who notices details.
If and when a company has an inexperienced person as their crane operator, then they risk accidents whereas people get hurt or even killed. Furthermore, one bad move and property can be destroyed.
Money At Stake
Keep in mind that cranes are expensive heavy machinery. They can cost tens of thousands of dollars or more. You don't just give the helm to anyone to control these big machines. You want to make sure the crane operator is qualified, certified, trained and experienced. Do they know how to operate the specific crane you intend to use? If not, they're not the right person for the job!
Finding the Right Professional Crane Operators
Crane operators who are professional and know how to do their job well are the people you want working on your particular project. Crane operators not only operate the crane, but can, in some cases, also rig the crane, set up the boom and cabling, prepare the hoist, secure mobile cranes, block/level the crane, verify attachments are installed correctly, and test the crane to make sure everything's working properly.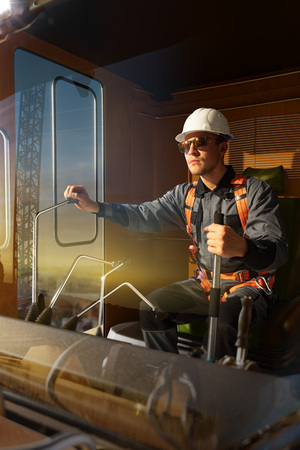 Crane operators have to be some of the most skilled people operating at a construction site. They maneuver large equipment and have to be very precise with their loads so no one gets hurt. Obviously, this is dangerous work. There's a potential for accidents with crane operation.
As cranes become larger and more complex, operators need more training to be kept up-to-date with key information on how to deal with newer cranes. They also need to inspect cranes at all times. They're the ones who know whether or not it's safe to operate. They make sure everything is functioning properly.
Most crane operators go through a combination of classroom and in-the-seat instruction. They learn about basic principles of cranes, crane safety, operating a crane, preventative maintenance, wire rope and basic rigging practices. They also work in-the-seat, learning how to operate a mobile hydraulic telescopic boom swing-cab and telescopic boom fixed-cab crane, for instance.
Finally, crane operators need to be good communicators. They're working with a variety of people who are fulfilling a number of duties. A crane operator can't just sit there and be quiet. He or she has to share their information with others, and receive and analyze information from co-workers all the time. Good communication helps keep people safe from harm, especially when something very heavy is overhead.
Do you need an experienced crane operator in New England? Astro Crane can find the right person for your job. Please call Astro Crane at 978-429-8666. We also rent a variety of cranes.