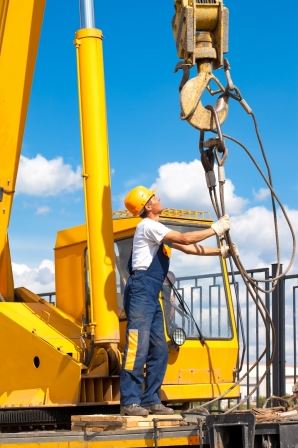 Cranes and hoists are tools you will need to use in order to lift very heavy materials. Whether you are a contractor completing a construction project or a shipper in charge of moving incoming and outgoing shipments around, a crane or hoist can really come in handy. It will be nearly impossible to do your job without one. However, there are some safety tips you should keep in mind when utilizing one. Check them out below.
Operate a crane or hoist slowly and with caution at all times.
When you're using a crane or hoist, it's important to remember that you are dealing with a heavy-duty piece of machinery that is used to move materials that weigh a significant amount of weight. If you have fallen behind on a project or you are extremely busy one day, you might be tempted to try and move things around quickly with your crane or hoist. Resist the urge to do it as it could put you and others on your job site in danger.
Avoid using a crane or hoist that isn't functioning properly.
If you suspect that something isn't right with your crane or hoist, you shouldn't use it. The crane or hoist should be taken out of service immediately so that it can be inspected. If you ignore your intuition and decide to use the crane or hoist anyway, you could cause a catastrophe. You should always respect the machinery you are working with and follow your gut rather than using something that is malfunctioning or not performing the way it should.
Inspect your crane or hoist before you use it and maintain it on a regular basis.
Before you take control of a crane or hoist, you should do a manual inspection to make sure everything is working right with it. You should also have your crane or hoist maintained regularly to keep all of the various parts of it working. Cranes and hoists are under a constant amount of pressure and stress, so it's important for you to have them looked at every so often.
Do you need a crane to use on your job site? Astro Crane can provide you with one and show you exactly how to keep your worksite as safe as it can be. Call us at 978-429-8666 today to speak with a representative about obtaining one of our cranes.