Recently we did some work for The Hall at Patriot Place. Our services are often called on to place large items or larger equipment on top of buildings, as was the case here. Since we're located in Massachusetts and provide crane rentals all throughout New England, it's no surprise we were excited to provide help to the Patriots and their interactive modern museum at Gillette Stadium.
The Hall opened in 2008, providing fans and patrons and exciting, innovative and interactive experience for people of all ages. On their website, they describe the hall as, "a modern "museum" that takes guests through Patriots and New England football history in a cutting-edge way, utilizing amazing video and audio to tap into fans' emotions in a manner never before seen in a sports museum."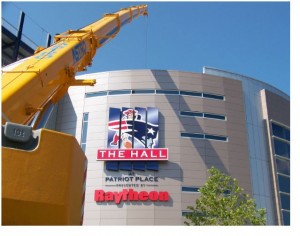 You can book a group visit or plan a school field trip to walk through the 30,000 square foot facility. For fans of the game and the Pats, "you will have the opportunity to learn the playbook from three-time Super Bowl champion head coach Bill Belichick, go under the hood and review plays like an actual NFL official, go inside a huddle and listen to quarterback Tom Brady call plays,  test your vertical jump and compare your weight to Vince Wilfork's. You'll also block Tedy Bruschi, stand inside a duck boat used in the Super Bowl XXXVI parade, kick a field goal, and listen to never-before told stories from past Patriots."
Every day, Astro Crane is privileged to help companies, contractors and businesses with the crane rentals we provide. Some rental site are more exciting than others, and when we get the opportunity to work for an iconic organization like the Patriots, we are happy to share with others.