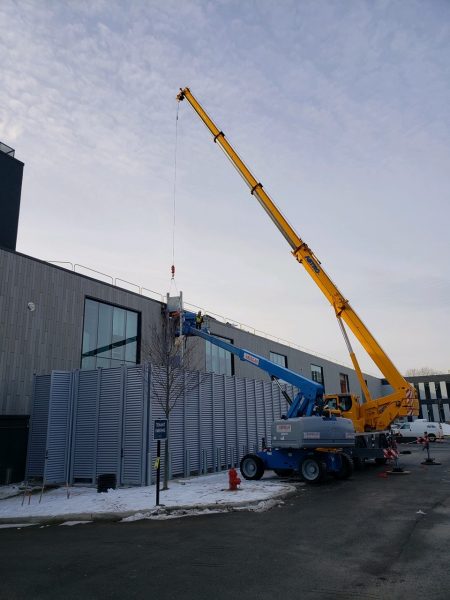 Throughout the crane and construction industries, Liebherr has built its reputation for being one of the most trusted brands thanks to their dedication to manufacturing high quality cranes that utilize the most innovative concepts. Liebherr invests greatly in research and development to keep the companies and operators using their cranes one step ahead.
50 Ton Liebherr Cranes For Rent
If you're looking at cranes for rent in the New England area, Astro Crane has a wide range of options for you, including the 50-ton Liebherr Crane. The 50-ton Liebherr is one of our more popular hydraulic cranes for rent, and to match demand, we have four available for our customers. This 50t crane features a 4-piece telescopic boom that has near limitless extension, as it can be used at any length, thanks to the hydromechanical testing system. What's more, the telescoping process can be completed by the operator even while there is a load on the boom.
It has a max load capacity of 40 tons, and a telescopic boom of 35 mm. Notably, its max hoist height is 44m and the max radius 39m. Also, it has 2 axles. In addition to providing crane rentals, Astro Crane also offers crane rigging, crane hoisting, and assistance with setting up your lift. You can click on the brochure on this page for more information regarding the 50-ton Liebherr crane, and if you have any general or specific questions, contact us today.
( 2 available for service )